Vassily Filipenko: Ugra is one of the main chess centers in Russia
There is a strong man behind each major chess event in Ugra. Vassily Filipenko became the President of the Ugra chess federation in 2005. In the next 13 years they hosted nearly every possible chess competition – the only missing event is a World Championship Match.
– Vassily Alexandrovich, for how many years do you work as a head of Ugra chess?
– I became the President of Ugra chess federation in 2005, but I had worked in the field of chess a few more years before that. There must be 15 years total.
– Do you remember your first major competition?
– The 2005 World Cup. The city and region were quite experienced in organizing big events in other sports, especially in biathlon, but chess was a completely new territory for us. We tried to learn as much as possible from more experienced organizers, traveled to the Kalmyk Republic and Armenia…
Each event is special and challenging for us. Sometimes I look back and cannot believe we made so much progress. Everything worked out so great, I wouldn't believe it in 2005! Women's, men's, junior events, individual and team competitions – we had everything. As an organizer, I remember our mishaps particularly well, but we would always come back and fix the issues next time. Our standards of organization are consistently high.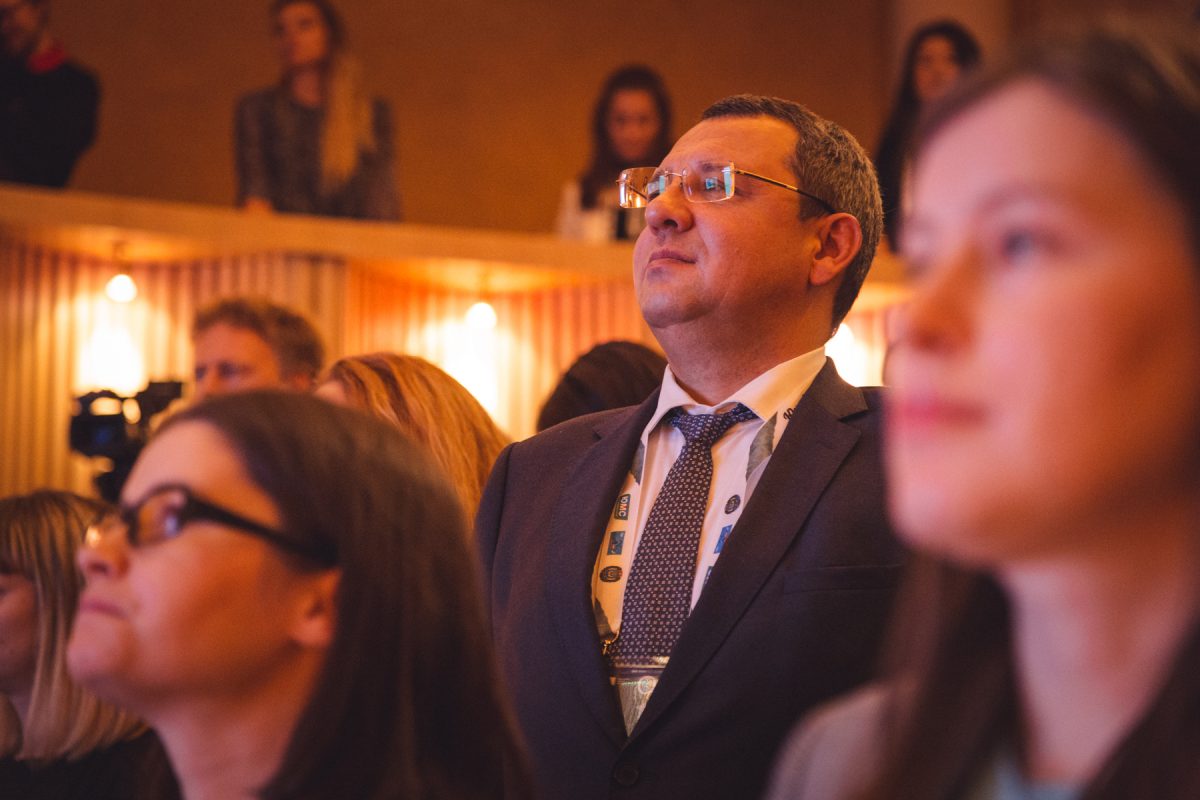 – Which event are you especially proud of?
– The 2010 Olympiad for sure. Our regional chess federation would have never managed to carry out such a huge event without help from the Ugra government and the Governor, Natalia Komarova. One could say we had a joint venture, each having their own areas of responsibility. Teamwork was the only way to succeed.
– Natalia Komarova is also the RCF Vice-President…
– Right. I must say this position is not a formality for Natalia Vladimirovna. She takes her chess duties very seriously and does a lot for developing chess in Ugra. Representatives of other sports feel aggrieved sometimes – they blame us for giving chess too much attention.
– How do you create a schedule for future events?
– Normally we organize one major international event every year: Women's World Championship, Candidates Tournament, World Cup, or a Grand Prix tournament. We also host national level competitions, without any specific order or restrictions. Regional competitions are constantly underway, of course. Ugra is one of the main chess centers in Russia.
– Do you have enough resources for that?
– We do. Some time ago we had doubts about organizing chess events so often, but we no longer have them.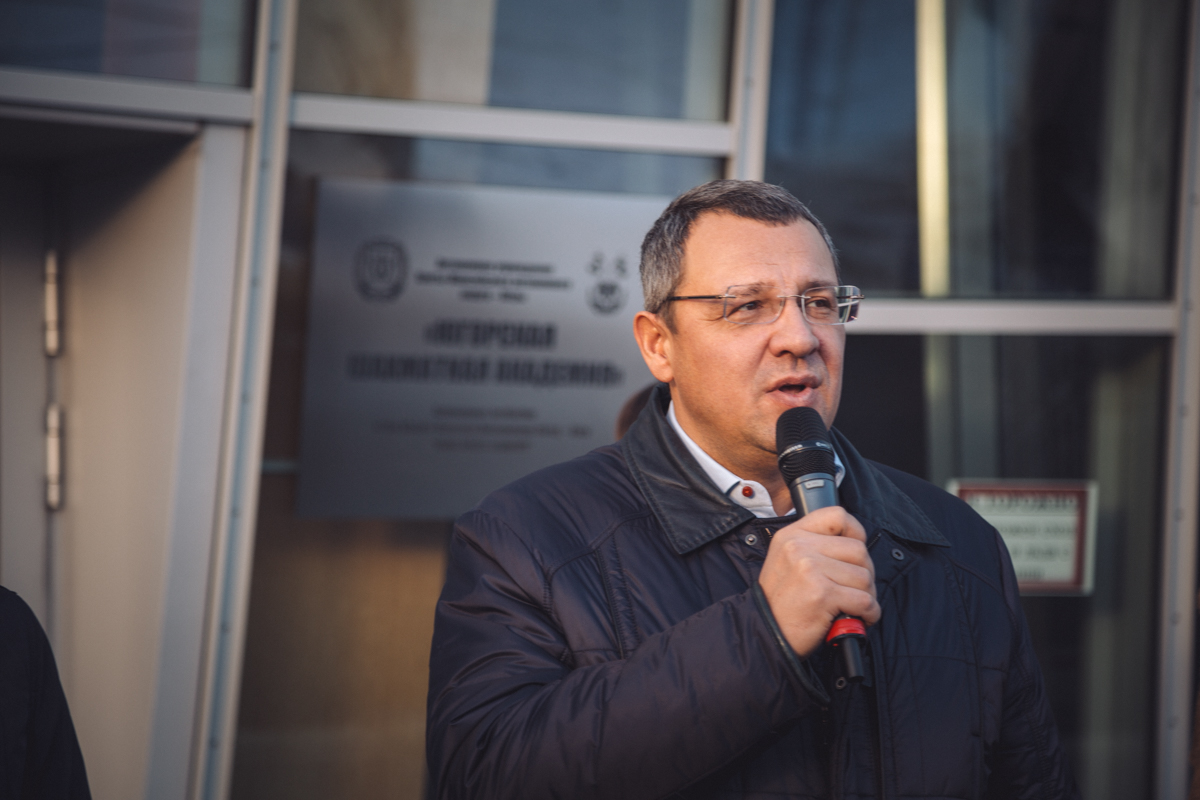 – What is the situation with numbers of active chess players?
– Three years ago the Ugra Government made a decision to introduce chess into a school curriculum. It gives a great boost in numbers.
– How important is having Ugra-born grandmasters for you?
– These are like links in a chain: mass sport and top level sport cannot exist without each other. We are proud that Dmitry Jakovenko and Olga Girya are playing for the Russian national teams. Ilja Iljushenok from Khanty-Mansiysk has recently become an international master.
– Why there aren't many spectators at the Women's World Championship?
– Most people are watching these games online. Students of the Chess Academy are usually the only ones visiting the playing hall – they want to see everything in person. The situation is similar to other tournaments, and nothing can be done about it. We have crowds only at the opening and closing ceremonies.
– Khanty-Mansiysk will host the 2020 Chess Olympiad. Are you going to build infrastructure for this event?
– We always want to do more. Considering the growing number of FIDE member countries, we need some modernization. Therefore, we decided to build a new building for the Olympiad. The Tennis Center, which hosted the 2010 Olympiad and the Junior World Championship, is no longer up to the task.
– What is wrong with it?
– The venue must be comfortable and convenient for chess players. Our standards of organization are very high, and we must live up to the expectations. We will also build a new hotel for the Olympiad participants.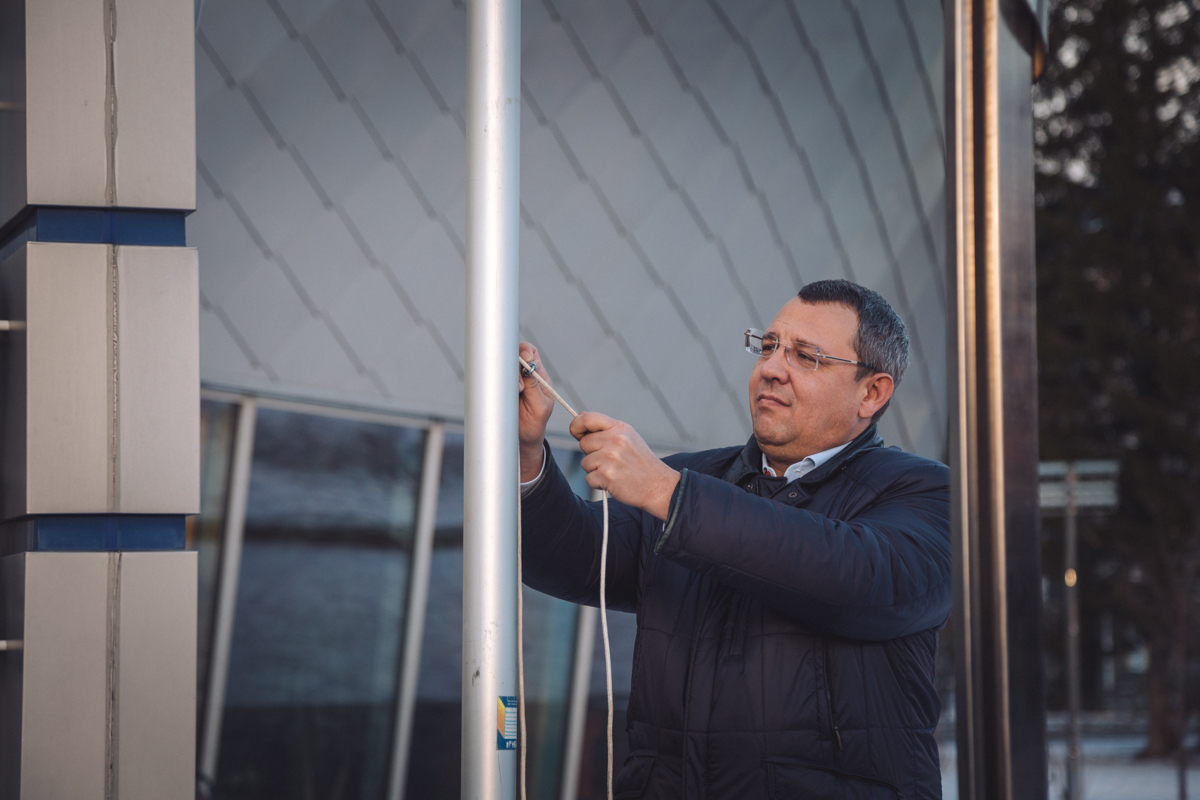 Vassily Filipenko is hoisting the FIDE flag in front of the Ugra Chess Academy  
– Khanty-Mansiysk is hosting the World Cup next year – for the fifth time already!
– We can carry out a World Cup basically anytime. The Chess Academy can easily accommodate 128 players. There were 64 players in the Women's World Championship. Wasn't it convenient for everyone? For you?
– Yes, it was, thank you. Do you follow the course of the championship?
– Of course I do! Sadly, Olga Girya was eliminated in the first round. However, I am glad that two Russian players advanced to the Semi-Finals, and Kateryna Lagno will fight for the chess crown in the Final.
– My last question: for how long do you know Arkady Dvorkovich, the recently elected FIDE President? Do you expect positive changes within the FIDE?
– We know each other for quite a while, since his presidential term at the Russian Chess Federation. We were in close contact regarding the 2010 Olympiad. He is a smart and well-read man, fully capable of restructuring the FIDE and reaching the goals FIDE should strive for. Kirsan Ilyumzhinov, who is also a friend of mine, helped FIDE survive during hard times. Arkady Dvorkovich will bring it to the next level.