Ruslan Scherbakov: One should not get fixated on the opening alone
The graduate and trainer of the famous Panchenko School Ruslan Scherbakov got lucky – his student is eager to work hard. Even after Dinara Saduakassova got eliminated from the World Championship, she only gave her coach three free days.
– Ruslan, you are a player of classical upbringing. What can you say about modern chess?
– It has changed quite a lot, to put it mildly. We have a lot less time to sleep and need to work constantly. General recommendations no longer cut it, people need exact assessments and concrete ideas. Everyone works on the computer, and the overall level of play has lifted up considerably. If you don't work as hard as the others, you will be punished.
– Do you approve these changes?
– In general, I don't like them. I prefer the old times with more human thought and ideas. The computer taught players to defend properly, it helps to solve problems faster, it demands precision. Also, thanks to the computer, the players grew more critical of their opponents' moves. They don't trust human judgment as much as before!
– Did the computer change any fundamental ideas about the game?
– The most important things remain the same – development, importance of the center, king's safety. Some strategic aspects have evolved, and everything became much more concrete, from the very start of the game.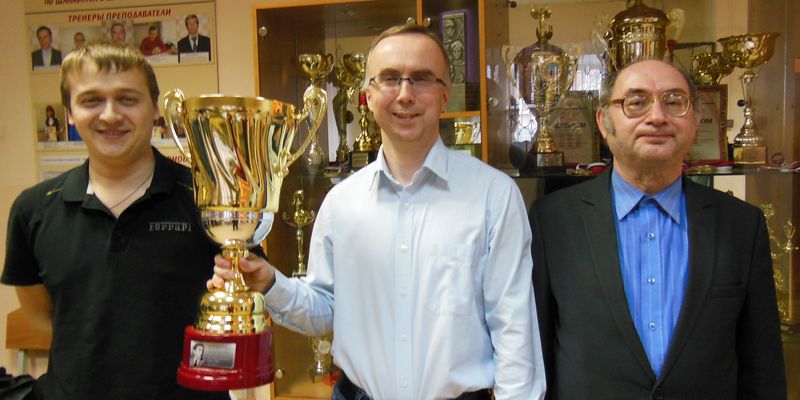 Rusland Scherbakov in the centre
– What is the key part of the preparation?
– Professionals mainly work on their openings. Also each opponent is being scrutinized: what does she play, where she can go, where we can lay a trap, which positions are causing discomfort for her… My task is to give my players comfortable positions that are uncomfortable for their opponents.
– How do you distinguish between promising and unpromising lines?
– Our judgment has been strongly influenced by the computer. In the past many positions were dropped off because they did not look safe; now you can not afford to rely on your gut – everything must be proven by concrete analysis. Therefore, we must not trust our first impression. Even a dangerous looking position may in fact be quite playable. And the list of those grows each year.
– But many openings are no longer played!
– Right, but many more have returned to life! Especially in rapid chess, where people often play very suspiciously looking lines and get away with it. People dig deeper and work harder than ever.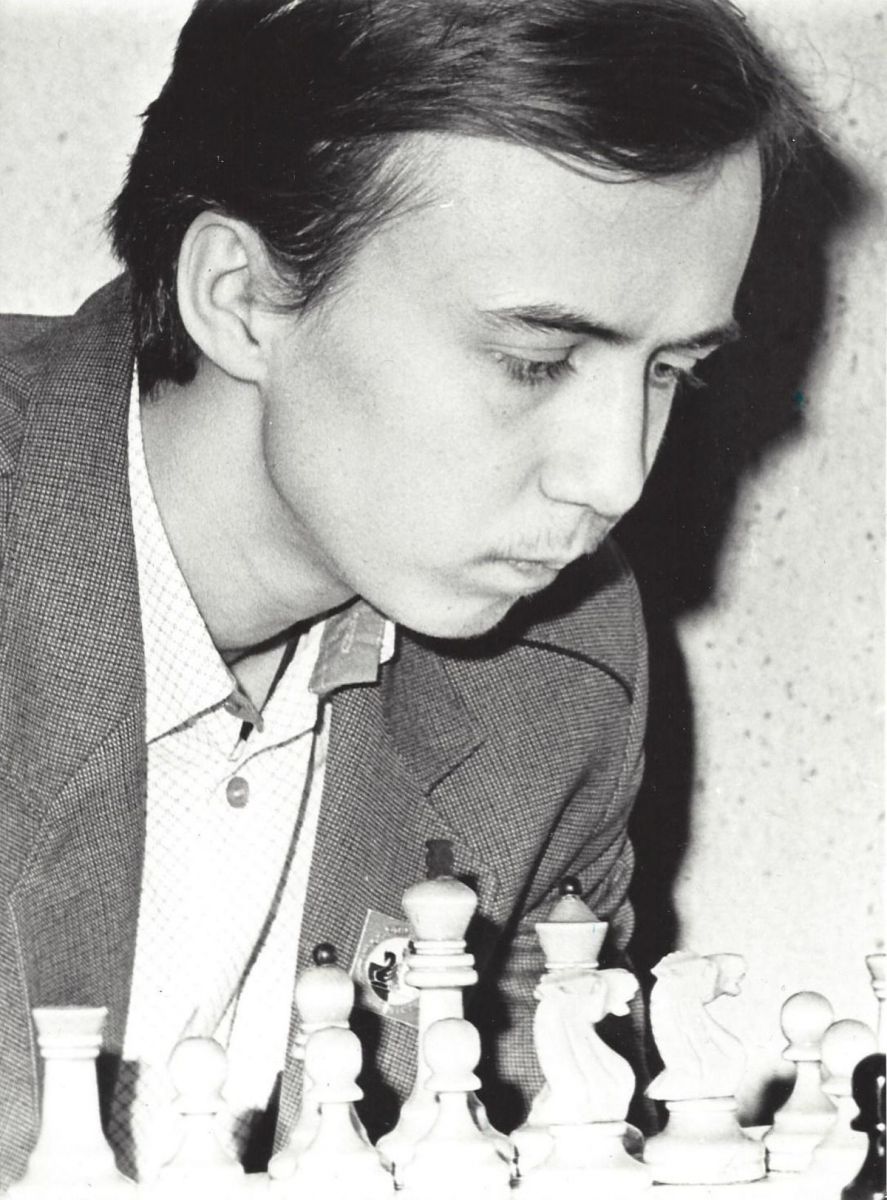 1987. Photo: V. Levitin
– What else do you do as a coach at this tournament?
– During the event it is too late to fix general strategy. It is time for such things as offering tactical puzzles and analyzing games.
– What makes you think you did your job right?
– I did the job right when my player is confident at every stage of the game, from a complicated opening to a technical endgame. One should not get fixated on the opening alone, although many players spend up to 80% of their effort preparing.
– Do you usually work at the tournaments in person or prefer long distance help?
– Usually I work from home, using Skype. However, no matter how much you try, it is impossible to do some things when you are not present personally, when you feel your player much better and find the right words much quicker.
– Do you follow the games from the playing hall?
– No; you cannot help, but you can hurt. The player can easily get nervous, misreading your face. When I am in the playing hall, I normally don't even look at my player.
– You work with both men and women. Is there a difference?
– I mostly work with women. They require much more detailed explanation of variations and ideas. Men absorb information quicker, understand it more clearly, remember and utilize the ideas more efficiently. Top female players, by the way, play much tougher chess, more like men's.
When discussing openings, you can share your doubts with men, but doing it with women is not advisable, because they may lose confidence, which will adversely affect their play. You should compliment women much more, tell them they did everything right – especially if this was not the case! It will help them believe in themselves. Men cannot care less about such things, and if you try complimenting them, they will look at you suspiciously. They aren't that bothered about criticism, too.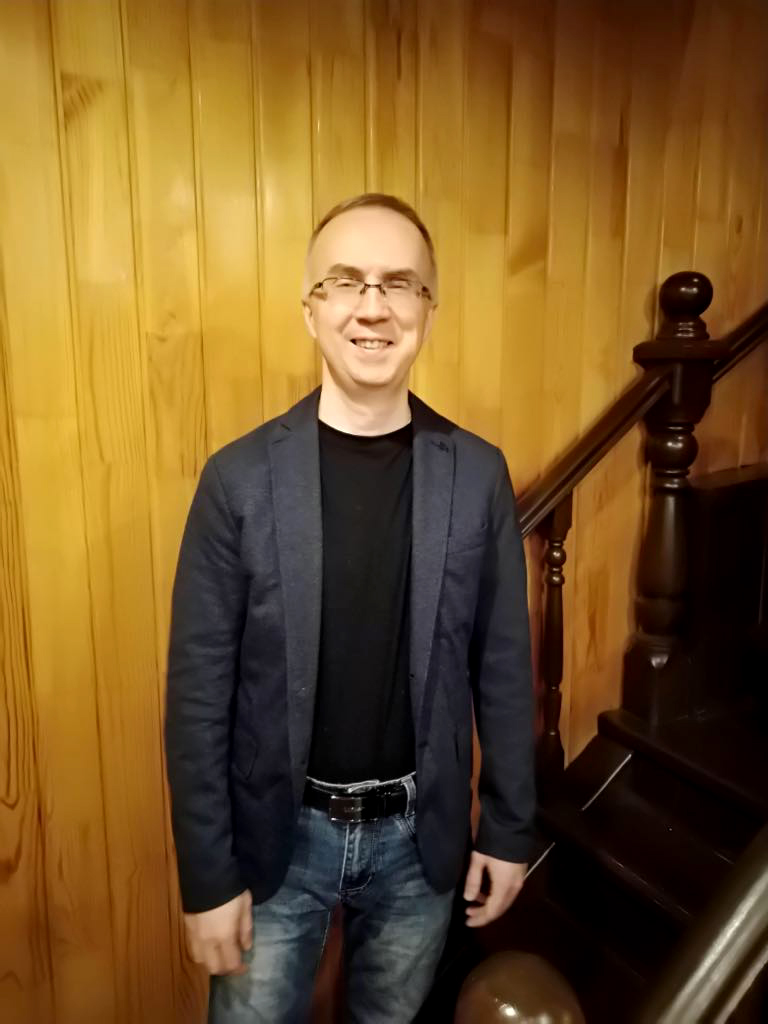 – What is your impression of Dinara Saduakassova?
– She has good potential, but obviously needs to work a lot. She always does everything properly and gives everything away at the board, no matter how difficult is the situation. She never gives up; in Khanty-Mansiysk she saved two very difficult positions. Looking at them, I was thinking I'd have hard time defending, despite I have always been considered a very good defender. For such student I really want to do my best!
– Did you feel sad when she got eliminated that early?
– I did. However, it is not a tragedy. Her time will come. I like that Dinara always wants to work more. I barely persuaded her to give me a couple of days off after the championship! Such approach is the best way to success.